OMS Northeast
Welcome to the blog site for the Northeast Region of OMS.  Let us know how we can best serve you.
Timothy Bell, Regional Director
Award-Winning Radio 4VEH Offers Lifeline to Haitians
Up to 80 percent of people in Haiti can't read or write well enough to cope with daily life. Radio plays a vital role in many aspects of life for the Haitian people, including the expansion of the Gospel.
One Mission Society's Christian radio ministry, Radio 4VEH in Cap-Haitien, Haiti, is this lifeline for more than a million people in Haiti. In addition to the daily Bible readings, Christian music and preaching, Radio 4VEH's daily announcements about the weather, farming tips and health information have become a practical lifeline to the community for the past six decades.
In early March, the National Religious Broadcasters association (NRB) honored Radio 4VEH with the prestigious International Radio Ministry Award for 2013. This award is presented annually to an organization outside the U.S. that excels in radio ministry, while demonstrating unusual effectiveness in impacting the culture with the Gospel.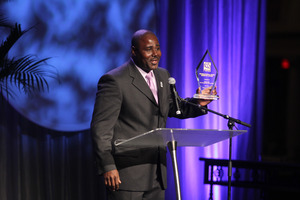 Storly Michel, station manager, accepts the 
International Radio Ministry Award.
(Photo courtesy of the NRB.)
"We are honored and grateful for this award," said Kate Michel, director of Communications and Marketing for Radio 4VEH. "It comes at a critical time in Haiti … after struggling to recover from the 2010 earthquake and ministry challenges for us at the radio station. Not only has this award really encouraged us, but it's encouraged our listeners too, knowing that they're part of a community that is impacting their country for Christ."
Would you like to see Radio 4VEH continue to help Haitians living in northern Haiti receive the true lifeline? Please consider becoming a monthly partner with this ministry, or you can give a special gift today so that the broadcasts can continue to provide life-saving information.